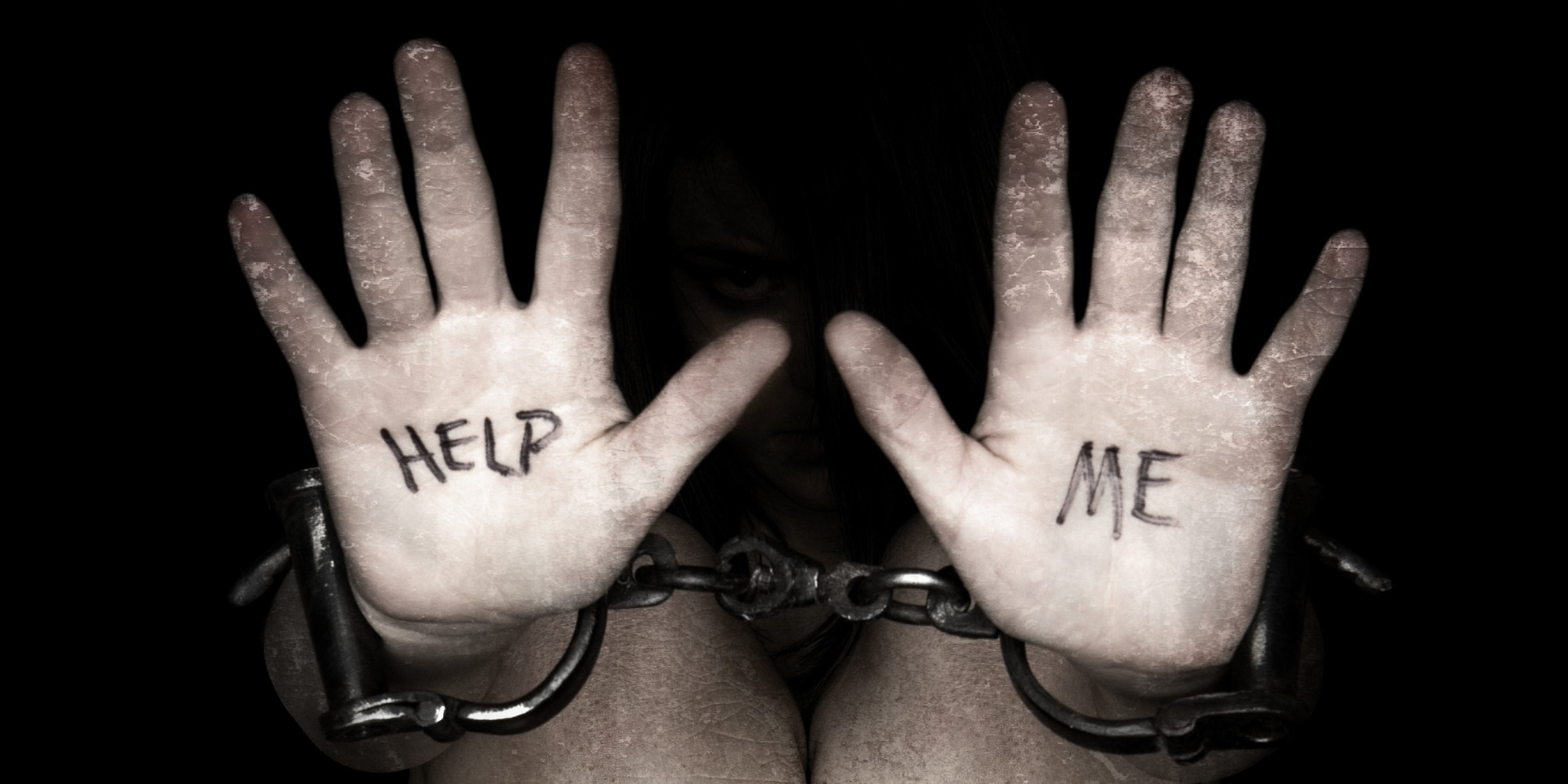 Over one MILLION women and children are kidnapped, sold, or tricked into a life of beatings, rape and torture every year the world over.
One such victim is Roxxana, she avoids all eye contact. Her gaze alternates between boring into the ground and scouring the door as if she feels the need to escape. Her right foot taps loudly on the worn wooden floor.
She is one of the 55 female trafficking victims helped each year at the crisis intervention center run by the International Organization for Migration and the Ministry of Labor in the Moldovan capital, Chisinau.
Her story is shocking.
"A childhood friend told me she worked in a boutique in Dubai and could help me get a similar job,' she explains. 'She put me in touch with a guy who arranged my trip to Odessa, Ukraine and then onward from Kiev to Dubai.

Once in Dubai I was met by a Russian speaking woman, Oxana, who took me to a flat with six other girls from Eastern Europe.
Oxana told me I'd been sold and took my passport away. I refused to believe her words and tried to leave. I soon found that all the doors were locked and the two large dangerous men I met earlier were not there to protect us.
When I demanded they open the door and let me leave the larger of the two struck me in my abdomen so hard my legs gave way. I cried but my tears meant nothing to them. the only words I heard were from Oxana, who admonished the men not to damage my face. Later that evening I refused to prostitute myself. I was locked in a closet and left there for 3 days with no food or water. By the morning of the third day I would have done anything for a drink of water.
Tired, afraid, trapped in a foreign country whose language I did not speak, with no money, no phone, no passport, I was trapped. If I wanted to live I had to do what they wanted. That night I did what they commanded and a part of me died forever."
Roxxana's story is just one of an estimated one MILLION women and children tricked, sold, kidnapped, stolen, and in some cases given into human sex slavery. A nightmare life where human beings are trafficked into a hellish life of daily beatings, hourly rapes and sadistic torture, which often ends in ugly deaths in unmarked graves.
In Moldova human trafficking is a massive problem where yearly an estimated 25,000 Moldavians are kidnapped or tricked into phony employment and sent to foreign countries. Most often these women and children are sent to the Middle East, Turkey, Russia, Cyprus, the UAE, and elsewhere where slavery is quasi-legal. V
ictims, are often as young as 9-years-old, with the International Organisation for Migration estimating that 10 per cent of the Moldovans taken are children.
There are many trafficking gangs operating in Eastern Europe. Disturbingly, many women and children are sold into prostitution by family members or people they knew. Sometimes, the family needed money, as there were too many mouths to feed. So, they simply sold off one of the extra daughters as if there were nothing more then livestock. Truly, sickening is the fact that often many of the spotters and recruiters for the Eastern European trafficking gangs were women.
Often, the girls don't consider themselves as victims; due too previously being raped, beaten, and mentally abused by family members. Their attitude is simply that they considered the violence and sexual degradation to be normal. A young girl with very hard eyes named Irina, a girl brutalized, pregnant by her sadistic alcoholic, father was sold for a weeks age to be trafficked to Turkey.
Irina spoke about her difficult life in very somber tones...
"Poverty crushed my family and the lives of so many in my town. With no way out, no jobs, no money, no schooling, no hope. What else is there but a hard life filled with pain and suffering. My mother died of breast cancer and father went to prison for raping me, but only after many years of endless nights filled with my tears. When he was finally arrested I was left alone, penniless, with no job, no education, pregnant with a child I did not want nor could I afford.
My grandmother, my father's mother, offered to help with the abortion and arranged for me to go to Turkey. The conditions are much better there and they'll look after you," she lied to me. At the airport in Istanbul I was met by two angry men who drove me to a desolate dirty property. There I met three other girls, Moldovan and Ukrainian. They quickly disabused me of any notions of medical assistance or help of any kind. They informed me that I was to service 20 men a day as a prostitute with none of the money going to me.
Never imagining that my life could become any worse then it already I broke down and cried. Sobbing I begged them to have pity on me, after all I was pregnant. One of the girls went into the other room and told the two men I was pregnant. The dark complected man came into the room asked me if indeed I was pregnant I nodded yes and he laughed. Then, he and the other man took turns raping me all that night and into the next day. Due to the rapes and beatings my pregnancy terminated in the first trimester leaving me barren, unable to have children. This is my life..."