Below is an Affidavit from Hillary Clinton. It is her sworn testimony

DEFENDING

a man who raped a 12yr old girl who was in the 6th grade. Hillary Clinton actually BLAMES the 12yr old girl for the rape.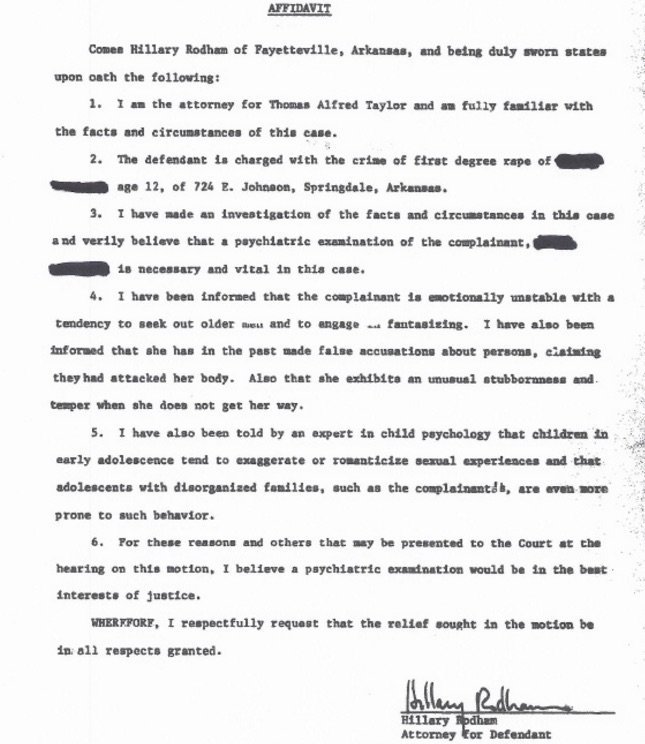 Here is the latest in a long list of scandals involving the slush fund that operates publicly as the Clinton Foundation.
The foundation is deeply intertwined with the massive wealth they've accumulated in the past 15 years even as its donors have themselves reaped enormous benefits.
The Wall Street Journal reported Friday that the foundation in 2010 committed $2 million to Energy Pioneer Solutions, despite IRS rules that say a charity is not "supposed to act in anyone's private interests." The ex-president even personally arranged a US Energy Department grant to the company.
Among the firm's owners are several longtime Clinton friends including a wealthy blond divorcée from Chappaqua whose relationship with Bill has long been the subject of

'cough...cough'

speculation. The Journal reports that the foundation even removed the fiscal link from its website to avoid calling attention to Bill's close, intimate "friendship."
The Clinton Foundation has been caught in one financial scandal after another. Last fall, it had to amend four years of tax filings to come clean about $20 million in foreign donations it received while Hillary served as secretary of state. Which, is highly illegal for ever other American except Hillary Clinton.