What I am about to share is the ultimate truth that has been lived, experienced and suffered by me for more than 30 years. This experience was gained by living in my home country of Egypt which is now a pure Muslim society. Like so many others I have been burned by this transformation. This transformation has seen me witness and experience Islam turn my home country to ruins and its followers are now threatening to bring the same fate to your own country.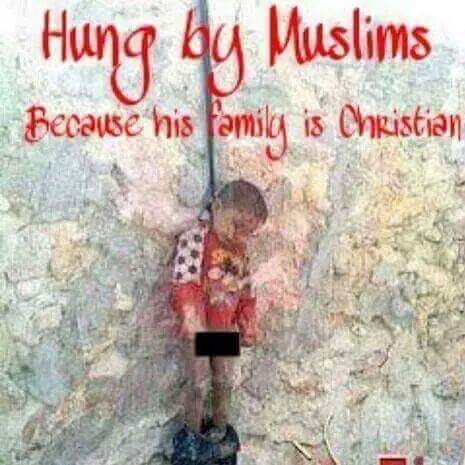 Islam is not like any other religion. Islam is a supremacist racist political and social ideology wrapped in a thin peel of religious rituals. It seeks domination and supremacy over all other systems and religions. Islam is worse than Nazism and fascism systems combined without any doubt.
Followers of Islam believe they are the only righteous people on earth and the only nation who hold the truth. Muslims believe Islam is the only true religion.
Due to this Muslims believe everyone else who has a different religion, or has no faith and does not follow Islam are"Kaffirs" (a derogatory term means unbelievers). Muslims are influenced by many frivolous koranic verses and hadiths (words and deeds of their prophet) teaching them they are the best nation that has ever emerged on earth. For example, according to surat (verse) 3:110 from the Quran, Allah said to Muslims: "Thus We have made you the best nation, that you be witnesses over mankind and the Messenger (Muhammad) be a witness over you"
A real Muslim's loyalty is not and will never be to your countries but to the global Islamic "Umma" (nation) only.
Muslims are in your country, but they live not to integrate or to be part of your society or at least to be equal with others, but to dominate and to be the only privileged group. Muslims achieve this by turning you into a second class citizen in your own country.
They immigrate to your countries holding the same belief system that turned their lives into hell on earth. This same belief, same religion made their lives unsupportable in their original societies. It is the same religion that transformed their countries into war zones of endless conflicts. Muslims now homeless want to apply this system and live and apply the same destruction in your own country.
Muslims are not in your country to help build it or to make it prosper. Many believe this, including politicians. Muslims are in your country to drain its resources and to suck the blood out of society. For example Muslims represent the majority of all your country's welfare recipients.
In the world of snakes and vipers, the average person can't distinguish between the poisonous snake and the non-poisonous snake; the average person has no choice but to avoid all kind of snakes.. Since the world did not invent a tool able to detect who is the "devout" Muslim and who is the "nominal" Muslim or a device to detect who is telling the truth and who practising "taqqiyah تقية" (telling lies to the unbelievers in order to advance the cause of Islam), so it is wise to take your precautions against ALL Muslims and not accept them as immigrants or asylum seekers, they left us no choice but to avoid them all.
Muslims demand tolerance, but they don't have to tolerate anybody else in other societies or faiths…They demand accommodation, but they don't have to accommodate anybody else…They demand respect but they don't have to respect anybody else….Remember, they immigrate to your western countries and think that's your duty to integrate to them, not the reverse.Muslims don't understand that respect is earned not given.
Islam turned their lives and the lives of others around them into a living hell. Now Muslims are immigrating in huge numbers from their desolated countries and invading yours. They do whatever they can to immigrate to Europe, America, Australia, even if the price is risking their own lives and traveling in sinking disused ships in the middle of the sea. Thousands upon thousands of Muslims everyday stand in front of western consulates in their countries hoping to get a visa to leave their ruined, corrupted, violent and failed societies. All as a result of Islam.
They wish to see your country as another copy of the one they and their belief ruined and then escaped from. Today, especially the second and third generation of this Islamic immigration have become even more fanatic and violent within the counties that their families sought refuge in. The latter generations are also realizing the success that Islam has had on changing the country's demographic profile and laws that give extra privileges to them.
Muslims have a very high birthrate comparing to yours and they will strive to be the dominant or at least the majority group in the future . This will cause a lot of changes and modification in you freedom, laws, quality and way of life and catastrophic consequences, for example; civil war.
The vast majority of Muslims are programmed to recite not to understand holy texts, to glorify not to analyze, to praise not to criticize. That's why you can meet some Muslims telling you some utopian whitewashed issues about their religion.
A Muslim is ordered to not ask questions about their religion. This is mentioned in the Quran "verse 5:101: "O you who have believed (Muslims), do not ask about things which, if they are shown to you, will distress you." If they question they could be considered an apostate, and could be killed by their fellows. If claims about the "peacefulness" of Islam are true, Muslims could have taught it to their fellows who commit all kind of atrocities proudly in the name of Islam. This would have stopped them from committing evil in the name of their religion. But since these ignorant Muslims know well there is no Islamic textual basis or religious jurisprudence sustaining their claims, they prefer to tell you these untruths about Islam.
A Muslim generally, as his holy texts command, can never befriend a kaffir (non-Muslim). TO them, you are a "kaffir", and the "Kaffir" in the Quran is UNCLEAN… They believe hell fire is your final destiny, the only reason why they may smile to you is to proselytize you "Dawah or Daawa دعوة" . This is a religious duty to all Muslims; to try to convert non-Muslims to Islam or at least to try to stop you from defending yourself and to let them achieve their goal quietly and to neutralize you . As it is mentioned in verse 3:28: from the Quran: "Let not the believers take for friends or helpers Unbelievers rather than believers: if any do that, in nothing will there be help from Allah: except by way of precaution, that ye may Guard yourselves from them…".
This hypocrisy is widely used and encouraged in Islam when dealing with kaffirs. it's called "Taqqiyah" and it is widely used by muslims in non-Islamic countries.
Muslims are killing each other using the most barbaric ways in Islamic countries. Muslim fathers or mothers can kill their daughters for not wearing the islamic veil or for being too westernize…If they are so unmerciful to each other, how do you except them to treat you, the "Kaffirs"?…
Parts were excerpted from: http://nocompulsion.com/a-warning-to-the-west-a-voice-from-the-heart-of-the-islamic-world/