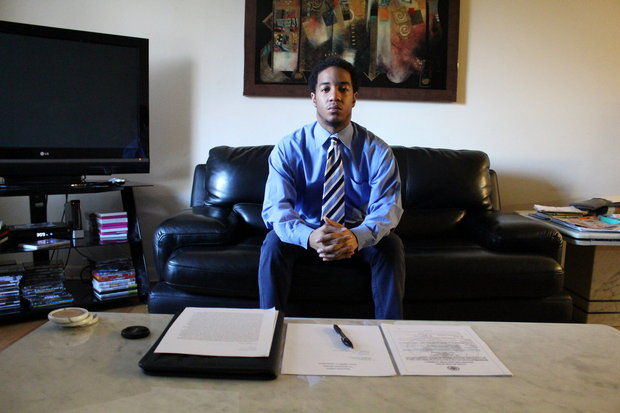 When Steffon Josey-Davis was pulled over by police along a New Jersey road two years ago, the young security guard never imagined his legally owned gun would be confiscated -- and the incident would make him a convicted felon.
Josey-Davis' nightmare began on the morning of Sept. 20, 2013 when he was preparing to leave his North Brunswick, N.J., home for a job as an armed security guard with Loomis Armored, a company responsible for transporting money to banks.
While unloading his 9mm Smith & Wesson handgun inside his car, his 6-year-old sister wandered into the family's garage, startling Josey-Davis. He quickly tucked the firearm inside the glove compartment and out of the child's view, according to his account.
Hours later, while driving at night with his girlfriend in Highland Park, he was pulled over. Josey-Davis says he was going below the speed limit.
But the fact that he did not yet have a permit to carry the gun -- which was stored, still loaded, in the glove compartment -- resulted in his arrest.
The 24-year-old now has a criminal record and is unable to secure a job -- and his dreams of becoming a police officer are dashed. The latest Garden State resident to be caught in a legal entanglement over the state's strict gun laws, Josey-Davis is now seeking a pardon from New Jersey Gov. Chris Christie and has mounted a robust social media campaign, including a Change.org petition that has attracted more than 85,000 signatures to date.
Further, he's hired Evan Nappen, a prominent gun rights attorney, to appeal his conviction.
This is a case of a law-abiding citizen being turned into a criminal by New Jersey's NAZI gun laws.
Josey-Davis describes the nightmare of his arrest...
He said that after he was pulled over, he reached into the glove compartment for the car's registration. He saw the gun, which he had forgotten about, and turned it over to the officers. They took it, issued him a citation for his registration -- which had expired that morning -- and let him go. They told him to return to the Highland Park Police Department the following Monday to retrieve his firearm, he claims.
Josey-Davis says he did as he was told, bringing with him his work credentials and receipts for the firearm. What happened next stunned him.
"They handcuffed me and charged me with unlawful possession of a firearm -- a second-degree felony."
"I almost fainted. My life was ruined -- all my hard work went down the drain," said Josey-Davis, who had no criminal background and had passed rigorous security background checks for his job.
Tell me who does this Tyrannical gun law help? It dosent help Law Abiding citizens. It doesn't make the streets any safer. This ILLEGAL New Jersey gun law only serves those who want to create and rule an Orwellian society.
These ILLEAGAL laws are designed to break the will of the American people. To force the American people to accept the chains of slavery. The politicians have armies of heavily armed men protecting them. The American people however are being told they aren't civilized enough, smart enough, well behaved enough to be allowed the GOD given right to bear arms.
There is a

2nd Amendment

to protect AMERICAN'S, not from each other, but from a tyrannical government.